Irish general election: an unusual second week
By Shane Harrison
BBC NI Dublin correspondent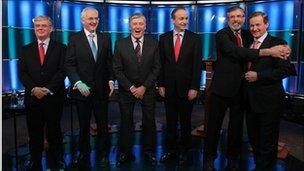 The last seven days have seen the Belfast plane crash in Cork and the Cairo street protests briefly dominate the news - but the general election still managed to make the front pages.
It is still, by Irish standards, a most unusual election.
The lamp posts remain relatively bare of election posters but after a dull first week, the second week of campaigning livened up.
The public now seem more engaged than they were - helped by two television debates and an opinion poll that suggests that Enda Kenny's Fine Gael party is now within striking distance of single-party government.
Last week on TV3's leaders' debate Fianna Fail's Micheal Martin comfortably defeated Labour's Eamon Gilmore.
It was an outcome that surprised many observers because, they said, he nearly made people forget that his party had been in government for the last 14 years.
But it didn't do Fianna Fail any good; both it and Labour went down 2% in the latest national opinion poll.
The real winner was Enda Kenny, who didn't take part in the debate.
Fine Gael, the main opposition party in the outgoing Dail, went up 3% to 38% - a figure that would see it agonisingly close to an overall majority and in no need of support from Labour as a potential coalition partner.
With Mr Kenny now in pole position, he went into Monday night's RTE five leaders' debate as the man with the most to lose.
And the Fine Gael leader, who has a reputation for not being a good debater, came under sustained Labour and Fianna Fail attack.
At one stage, during a heated Gilmore-Kenny clash, Micheal Martin turned to the camera and said to audience laughter "and they want to be in government together."
But by not committing any major gaffes Enda Kenny was the real winner, although in pure debating terms Mr Martin probably again won, not that it will do Fianna Fail any good.
All five leaders, the other two were John Gormley of the Greens and Sinn Fein's Gerry Adams, can be happy with their performance albeit it for different reasons.
None made a huge mistake and all more or less successfully pitched their messages at their intended target-audiences.
The set looked like that of Ann Robinson's tea-time quiz show but none of the leaders was told to go because he was "the weakest link."
Micheal Martin vigorously attacked Sinn Fein's economic policies saying Gerry Adams was like the host of RTE's Late Late Show with a goody bag for everyone in the audience but with no cutbacks.
Meanwhile the Sinn Fein leader replied that the Fianna Fail leader's policies reminded him of the magician, Paul Daniels.
Mr Martin also took Mr Adams to task when the Sinn Fein leader described Irish political leaders of engaging in fraud.
The Fianna Fail leader was quick to say that Gerry Adams should have the humility, given the republican movement's history, not to accuse anyone of fraud.
Needless to say Mr Martin is also worried about slippage of the Fianna Fail vote to Sinn Fein.
Economic and banking issues, especially the Republic's European and IMF bail-out loan, continue to dominate the campaign.
Once again in the last week there have been hints that there may be a relaxation of part of the deal but on a wider European level and not unilaterally for the Irish.
With more debates and over a week's campaigning left, it may be too early to say that Enda Kenny has sealed the deal with the Irish people. But if he hasn't, he's pretty close to it.
And a meeting in Berlin with Europe's most powerful politician, Chancellor Angela Merkel, certainly made him look prime ministerial.
Who would have thought after Fine Gael's disastrous election performance in 2002 that saw many write that the party had no future, it could now be on the cusp of an overall majority?
It is probably little comfort for Fianna Fail that such turnarounds are possible but, these days Mr Martin's party has to take whatever comfort it can find given the hostile view of the electorate after the Republic's economic crash.
What started off as a dull election campaign has suddenly got a lot livelier and promises to get a lot more interesting over the coming week.