EU's Afghan police mission 'failing' - UK Lords report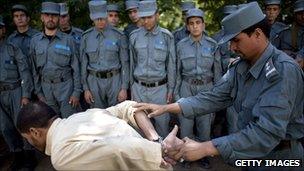 The EU's police mission to Afghanistan is "failing" and the timetable for withdrawing Nato-led troops is at risk, a UK parliamentary committee says.
A hard-hitting report by members of the House of Lords said the Afghan National Police was plagued by high levels of illiteracy, desertion and corruption.
The EU deployment began in 2007. But the Lords committee says it never reached the target of 400 trainers.
The report also urges the EU to co-operate closely with the Nato forces.
The House of Lords EU Sub-Committee on Foreign Affairs scrutinises EU affairs and its views help to shape government policy.
"It is failing in its stated purpose of building up a civilian policing capability. What the Afghan people need is a police force that can relate to their lives, that can investigate crimes and bring cases to court."
The Nato-led troops - Isaf - aim to hand over to Afghan security forces in phases, so that all international combat troops can pull out by the end of 2014.
But the deficiencies in the Afghan police threaten that timetable, the report warned.
Isaf troops have been attacked several times by Taliban insurgents dressed as Afghan police.
Lord Teverson lamented that "there is no formal agreement between the EU and Nato in Afghanistan, which we find utterly unacceptable".
The EU mission, Eupol, is teaching civilian investigation skills and trying to improve the Afghan judiciary - a role that contrasts with the counter-insurgency mission of the US-led international troops.
Isaf is training and mentoring Afghanistan's security forces, but there have also been several incidents of Afghan soldiers firing on foreign troops.
Related Internet Links
The BBC is not responsible for the content of external sites.