Irish general election - party leaders in TV debate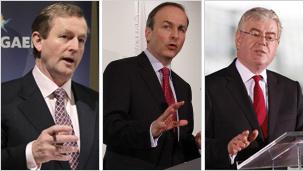 The leaders of the three main Irish political parties have clashed strongly in the second debate of the general election campaign.
The debate between Fine Gael leader Enda Kenny, Labour leader Eamon Gilmore and Fianna Fail leader Micheal Martin was conducted in Irish.
It focused on the Irish banking crisis, public sector redundancies and the Irish language.
The Irish election is due to take place on 25 February.
Mr Kenny, who opinion polls suggest is likely to be the next prime minister, criticised Mr Martin for his government's handling of the banking crisis.
Mr Gilmore also focused on Fianna Fail's bank guarantee, accusing the party of ruining the Irish economy.
Mr Martin said that the guarantee had been put in place to protect 1.8m working people, adding that the situation would have been worse if Labour's solution had been implemented.
There would be more people unemployed, no money in ATMs and all the banks would have shut.
Polls have suggested Fine Gael will secure the highest number of seats in the Irish parliament following the election, with Labour in second.
Fianna Fail, which was the biggest party in the last parliament, is expected to see a dramatic drop in its support.
The election is being seen as one of the most important in Ireland in generations.
The banking crisis and property crash severely damaged the country's economy, leading to a 90 billion euro bail-out from the EU and the IMF.