Iceland president calls referendum on new Icesave deal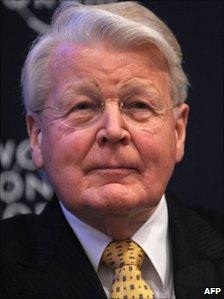 Iceland's president has called a referendum on the latest plan to repay the UK and Netherlands the 4bn euros (£3.36bn) they lost when the Icesave bank collapsed.
President Olafur Grimsson said the new deal, which was approved by parliament last week, requires public approval.
It is the second time in just over a year that Mr Grimmson has vetoed an Icesave deal and demanded a referendum.
Prime Minister Johanna Sigurdardottir has said the move is "disappointing".
Last week, Iceland's parliament overwhelmingly voted in favour of the deal, and voted down by a slim majority the idea of putting the issue to a referendum.
The money will be used to repay the UK and Dutch governments for reimbursing 400,000 citizens who lost savings when Icesave's parent, Landsbanki, collapsed late in 2008.
"The citizens of Iceland will get to vote on these new Icesave contracts," President Olafur Grimsson told reporters in Reykjavik on Sunday.
"These (Icesave) contracts are different from the last ones that were put to the nation," Mr Grimsson said.
"It is important that the nation again will get its say," he said, adding that "nearly half of parliament" wanted it to go to a public vote.
Mr Grimsson has said recently that the latest deal was much better than the previous one, which was rejected by 93.2% of Icelandic voters in a referendum in March 2010.
Prime Minister Sigurdardottir said she was "disappointed" by the decision, saying: "We had anticipated that the president would sign the Icesave bill".
"This bill got a majority in parliament and it is not common that the president rejects a bill with such a majority.
"I don't think there is a big chance that Britain and the Netherlands would be willing to sit down and negotiate again," Ms Sigurdardottir said.
Under the terms of the latest deal Iceland will have longer to repay, and at a lower interest rate than before.
Iceland will pay the money back to the UK at a 3.3% interest rate between 2016 and 2046, rather than a 5.5% interest rate between 2016 and 2024.
The actual cost to the state is expected to be much less than the 4bn euros owed, as the government says most of the repayment will come from selling the assets of Landsbanki.
The government has said the cost could be a maximum 50 billion crowns (£265m).
Iceland's three main banks collapsed within days of each other in October 2008. Iceland compensated its savers, but overseas savers faced losing all of their money.
The issue of repayments created a diplomatic row between Iceland and the UK, as well as political controversy in Icesave's home country. It also created uncertainty over Iceland's economic recovery.
Related Internet Links
The BBC is not responsible for the content of external sites.