Russia boosts ski resort security after attacks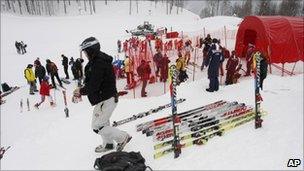 Russia has boosted security at some of its most popular ski resorts after tourists were killed and injured in violence over the weekend.
The attacks in the North Caucasian region of Kabardino-Balkaria killed at least five people, including a government official and three tourists.
The violence has increased fears that the Sochi resort, the host of the 2014 Winter Olympics, may be targeted.
Russia recently said it plans to boost ski resort development in the region.
The Kremlin wants to develop several major ski resorts in the volatile area to create employment and tackle poverty.
On Friday, armed men attacked a vehicle carrying five passengers to the country's most popular ski resort on Mount Elbrus, shooting dead three tourists. Two others were wounded.
"There was so much blood that it dripped through the floor of the minibus," a shopkeeper told Russia's Komsomolskaya Pravda tabloid.
Hours later, a cable-car was blown up in the ski resort, though no casualties were reported.
Three bombs were also defused by police in a car parked at a nearby hotel.
The BBC's Rayhan Demytrie in Moscow says the incidents have sent a worrying message to the Russian authorities and the country's tourism industry.
The Russian Tourism Union recommended that security measures were significantly increased, calling it a "dangerous situation".
"Kabardino-Balkaria has nothing but tourism," spokeswoman Irina Tyurina told Reuters.
"We call on authorities to save not only people, but also the region itself. Further attacks could ruin it," she said.
Russia's RIA Novosti news agency said authorities had imposed a "counter-terrorism regime" in two areas of Kabardino-Balkaria in response to the attacks.
Violence in Kabardino-Balkaria has become increasingly frequent over the past year, although attacks on tourists are rare.
Many attacks have been claimed by the regional branch of the Caucasus Emirate, a militant group that said it carried out the bombing of Moscow's Domodedovo airport last month.
The Black Sea resort of Sochi lies about 300 kilometres (185 miles) west of the Kabardino-Balkaria region, and its proximity to the Caucasus raises the possibility that the games could be targeted by militants.