Spain's Basques on the verge of peace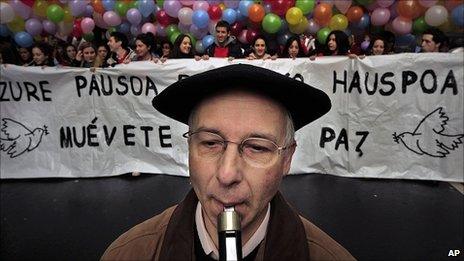 There is no obvious sign of the Basque conflict in Bilbao, no separatist slogans on the walls, no photographs of Eta prisoners.
The riverbank outside the glittering steel Guggenheim Museum is crowded with families, joggers and tourists enjoying the sunshine.
And there are now increasing indications that after more than four decades of violence, this peace could become permanent.
It is 19 months since the last targeted killing in Spain by separatist militants; four months since local businesses reported any extortion; and in January this year, the Basque separatist group, Eta, released a video announcing a ceasefire.
All this has happened before. What is new is a declaration from Eta's political wing that it rejects the use of violence and will condemn any future attacks.
"The decision is a historic and unequivocal choice for the democratic and political path, and there is no way back," Rufino Etxeberria told the BBC.
He is a former leader of Eta's political wing, Batasuna, which was banned in 2003 by Spain's highest court.
The separatists have created a new party called Sortu which they want registered in time for local elections this spring.
"We do not believe the strategy of achieving independence can be compatible with the armed struggle in the future," Mr Etxeberria explained.
It is radically new language for a well-known "hawk" in this conflict. But even if the courts refuse to legalise Sortu, Mr Etxeberria insists this U-turn in thinking is irreversible.
Such claims have been met with deep scepticism in Spain. Some 850 people have been killed by Eta since it began fighting for an independent Basque state.
And while Sortu's backers have pledged to denounce any future violence, they have not called on Eta to disband or disarm.
Even so, many in the Basque country sense a turning point in the conflict.
"I believe [the political wing] are working very closely to [bring the end of] Eta," says Martxelo Otamendi, editor of Berria - the only newspaper published entirely in the Basque language.
But he warns that will not happen overnight.
"We are not in a negotiation process here. There is nothing on offer," he points out.
"All you can say [to Eta] is: 'Don't think you are the saviours of the country. It's up to the citizens to decide the future.' But it takes time to convince them," Mr Otamendi - who has interviewed Eta militants in the past - believes.
The chance of any more formal negotiations with the government was eliminated in 2006 when Eta detonated a bomb at Madrid airport.
Rufino Etxeberria participated in the talks then and now admits the separatists' "maximalist" strategy was mistaken. Despite achieving significant concessions, he says they pushed for more and the talks collapsed.
Four years later, close to 600 Eta supporters are in prison, numerous senior militants have been caught - thanks to strong co-ordination with France - and Eta's political wing remains banned.
"You see posters now demanding Sortu's legalisation, and you have to think that's a sad end for 40 years of violence," reflects Ramon Etxezarreta, a local Socialist Party politician.
"So many people had to die for this?"
Sortu's backers are keen to present their new approach as a strategic decision - a process they themselves are controlling.
"This is not the result of weakness," Mr Etxeberria insists, stressing the rejection of violence follows a prolonged internal debate.
With Sortu, the aim now is to unite nationalist forces in a major political drive for independence.
"They did not get what they wanted through violence because Basque society said no, and they've finally understood that," argues Ramon Etxezarreta, who believes violence was tarnishing the principle of independence itself.
Others suggest Sortu would never have agreed to condemn future attacks, unless it was confident those days had passed.
That is certainly what it is saying: "We don't contemplate at all that there will be another bomb. Not only tomorrow, but in the future," according to Mr Etxeberria.
"Eta is not killing now because it doesn't want to," reasons Martxelo Otamendi.
"They know they can't win, but they could plant bombs, and they're not doing that," he says, suggesting the new political strategy is so far being heeded by the militants.
There are some signs the government agrees.
State-paid bodyguards are quietly being withdrawn for those deemed at low risk; there is an initiative to encourage those forced out of the Basque country by Eta's threats to return; and last week, Spain's interior minister said he believed Eta's latest ceasefire was "definitive".
In Bilbao, Joseba Marcaida remains wary.
Like many Basque men his age, he collaborated with Eta in the 1970s in what was then a fight against Gen Franco's dictatorship.
For Mr Marcaida, the fight ended when Spain became a democracy and the Basque country gained a great deal of autonomy.
For others, it has lasted far longer.
"We created a monster we couldn't stop," he reflects on the banks of the Bilbao river, two bodyguards hovering nearby.
Labelled a traitor by Eta, he has had his house set on fire four times and he has suffered multiple other threats - so he is cautious about celebrating too soon.
"This is happening because of the circumstances," he believes, not out of conviction.
"We don't know how many militants there still are. All we know is that Eta still exists, so we have to keep up our guard. But there have been six attempts before to stop the violence, and this time, we do think it's the definitive one. We have hope."
Related Internet Links
The BBC is not responsible for the content of external sites.