Spain rampage: Man stabs at least nine on Ibiza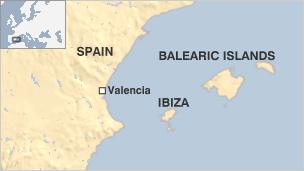 A man wielding a knife has wounded at least nine people at random on the Spanish holiday island of Ibiza.
The stabbings began in a supermarket in the main town, Sant Antoni, then continued in nearby streets.
The alleged attacker, a 41-year-old Moroccan man, is now in police custody.
At least four of those stabbed were reported to be seriously wounded, including one man who was knifed in the neck. The victims' identities are not yet known.
Ibiza is one of Spain's Balearic Islands, among Europe's most popular vacation sites and it is particularly popular among young British holidaymakers.
A British embassy official in Madrid has said the consulate in Ibiza is not aware of any Britons being among the injured.