Google map gives German harbour to Netherlands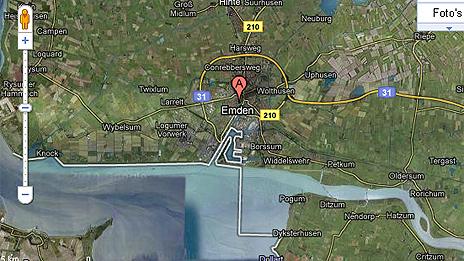 Emden is a town in north-west Germany but its harbour now belongs to the Netherlands - at least according to the internet map service Google Maps.
Emden officials complained about the error, but Google Maps still shows the Dutch border winding into the harbour.
A Google spokesman quoted by Deutsche Welle news said a continuing border dispute may be to blame.
Both countries agree that the border runs through the Ems-Dollart estuary, but its exact location is disputed.
Germany says the border runs close to the dykes on the Dutch side, while the Netherlands puts it further out from the Dutch shore.
The dispute has not disrupted peaceful shipping traffic through the estuary.
Last year Google Maps was embroiled in a fierce border dispute between Costa Rica and Nicaragua. Costa Rica complained that the website had fuelled the row by showing an island to be on the Nicaraguan side of the border.
Google admitted making an error and revised its map.
Related Internet Links
The BBC is not responsible for the content of external sites.