How does the Irish electoral system work?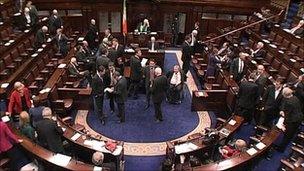 The Irish parliament, or Dail, is elected by proportional representation, using the single transferable vote system.
There are 166 seats across the Republic of Ireland with the speaker of the house being automatically re-elected.
There are 43 constituencies, with each electing either three, four or five candidates.
It is expected to take about two days to count all the votes.
Irish voters have not given any party an overall majority since Fianna Fail won 84 seats out of a possible 148 in 1977.
The main parties are Fianna Fail, who won the most seats in the last election in 2007, Fine Gael, Labour, Sinn Fein and the Green Party.
Fianna Fail have been in power for the past 14 years with various junior coalition partners.
Fianna Fail and Fine Gael emerged following a split in nationalist opinion over the 1921 Anglo-Irish Treaty.
Fianna Fail was once seen as more centrist, Fine Gael as more conservative, but differences have blurred.
Labour was the traditional junior party in coalitions before 1997.
Sinn Fein, often shunned by maintream politicians because of its links to the Provisional IRA, had four seats, as many as the Greens, the junior coalition partner, in the outgoing parliament.