Man blows himself up with grenade outside Moscow store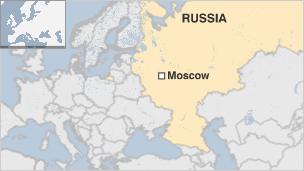 A man has blown himself up with a grenade outside a supermarket in Moscow, killing only himself, Russian news agencies have reported.
The man drove to the shop in north-east Moscow, got out of his car and mumbled unintelligibly before pulling the pin out of the grenade, witnesses said.
The motive for the attack is unclear.
A suicide attack on Moscow's Domodedovo airport in January killed 37 people. Chechen warlord Doku Umarov said he ordered the bombing.
In a video posted online, Mr Umarov said the attack was a response to "Russian crimes in the Caucasus" and similar attacks would continue.
Security at airports, railway stations and shopping areas was tightened after the Domodedovo bombing. There has since been a series of false bomb threats, followed by mass evacuations.
No one else was injured during the supermarket attack on Saturday, the Interfax news agency quoted a police source as saying.