Pale faces of Fianna Fail lose Irish hearts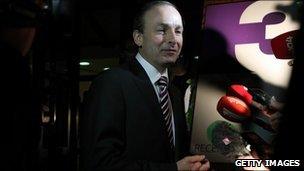 There were few Fianna Fail candidates to be seen at the main Dublin count centre but once spotted they stood out because of their pale, ashen-faces - they wore the look of the condemned.
And condemned by the Irish people, they were.
Fianna Fail has been the dominant Irish political party since independence.
It has been in power for 22 of the last 24 years.
But such is the scale of its defeat, particularly in Dublin, that it can now, with little exaggeration, be described as a mainly country and western party.
The comparison is inexact, but Fianna Fail's loss can be likened to that of the Irish Home Rule party that was defeated by Sinn Fein in the 1918 Westminster election that eventually led to independence.
'Boom, bust and bail-out'
Unlike the Greeks, the Irish may not have rioted over the loss of economic sovereignty to the European Union and the IMF; instead they waited, silently seething, for a chance to give vent to their anger in the ballot box.
The party was seen to have presided over the boom, the bust and the bailout. And the people were far from happy.
But the angry voters were also very fearful.
They didn't turn from Fianna Fail, a centre-right party, to the left, although the left did make gains.
Instead they turned to Fine Gael, another centre-right party.
Both parties have their origin in the Irish civil war, fought 90 years ago mainly over an oath to the British king, once independence had been largely granted.
This election may have seen the end of civil war politics.
Despite their policy similarities Fianna Fail and Fine Gael have never been in government together; after today that is no longer inconceivable.
Enda Kenny, the Fine Gael leader, will be the next taoiseach (prime minister).
It is a remarkable achievement for a man whose critics say he made little impact in his 36 years in national politics and who was a minister for less than three years.
His likely finance minister has already promised the Irish people a few dreadful years of spending cuts and tax rises.
The smoke of electoral battle still obscures the exact formation of the next government.
Mr Kenny will not have an overall majority but he may try to do a deal with a number of independents.
He has to ask himself whether such an arrangement will provide the necessary stable government that the Republic of Ireland needs.
He is likely to opt for a coalition government with Labour, another big winner in this election citing the need for stability and political certainty in these difficult economic times.
The banking crisis that bedeviled Fianna Fail has not gone away and one of the new government's first major decisions will be whether to put more tax-payers' money into the troubled financial institutions.
And then there is the important EU summit at the end of March when it is likely important decisons will be made on the future of the euro as a currency.
Mr Kenny believes the punitive average 5.8% charged for the country's 85 billion euros is too high and that the international bondholders - mainly British, German and French banks - that invested in reckless Irish banks should share the financial burden with Irish tax-payers.
He is hoping that his close relationship with the German Chancellor, Angela Merkel, will help get a relaxation in the terms of the bail-out loan.
But everyone knows there will be no sweetheart deal for Ireland; any changes will be for other European countries too.
Sinn Fein also had a good election more than doubling its representation compared to four years ago.
The Greens, Fianna Fail's out-going coalition partner, were wiped out.
Many of their votes went to independents, a disparate group that includes hospital campaigners, right-wing economists and the Trotskyite left.
Some ministers laughed bitterly about the independents, one of whom made his name as a campaigner for the legalisation of cannabis while another is a property developer.
Fianna Fail's senior members may well remain ashen-faced for some time but they know they will have to re-group. But that is for another day.
Their founder Eamon De Valera once said he only had to look into his own heart to know what the Irish people were thinking.
His successors would love to have that skill right now.