Necmettin Erbakan, Turkey's first Islamist PM, dies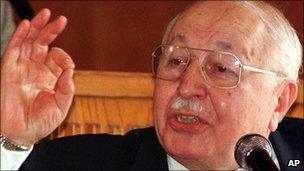 Turkey's first Islamist Prime Minister, Necmettin Erbakan, has died at the age of 84, one of his aides has said.
Mr Erbakan served only a year as prime minister before he was forced to stand down in 1997 by Turkey's staunchly secular military.
His Islamist Welfare Party was banned in 1998, while Mr Erbakan was barred from politics for five years for violating the constitution.
The governing AK Party, which has Islamist roots, grew out of Welfare.
Necmettin Erbakan led the Welfare Party to unexpected success in the 1995 general election when it won just over 20% of the vote to become the largest party in parliament.
Mr Erbakan became prime minister in June the following year in coalition with Tansu Ciller's centre-right True Path Party.
The Welfare Party was banned in 1998 by Turkey's Constitutional Court on charges of undermining the secular political system.
Later the party's funds were seized and an investigation led to charges that Mr Erbakan and other party officials were involved in diverting $3.5m earmarked for local party branches.
In March 2002, he was jailed for two years and four months.
In recent years, Mr Erbakan, had led the small Felicity Party.
He went into hospital in Ankara last month with a reported foot infection and died on Sunday.