French Foreign Minister Alliot-Marie quits over Tunisia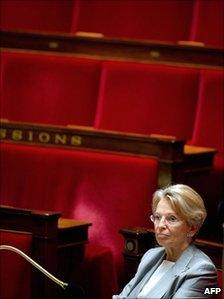 Embattled French Foreign Minister Michele Alliot-Marie has announced her resignation after weeks of criticism over her contacts with the former Tunisian regime.
But she said she had done no wrong, and launched a strong attack on the media.
A veteran conservative politician and cabinet minister, she had been in her new job for just three months.
President Nicolas Sarkozy has announced she will be replaced by Defence Minister Alain Juppe.
Ms Alliot-Marie was heavily criticised for initially offering French help to quell the uprising in Tunisia.
Subsequent revelations about her and her family's links to the regime of former President Zine El-Abidine Ben Ali, and the fact that she had taken a Christmas holiday in Tunisia during the uprising made her position increasingly untenable.
"While I do not feel that I have committed any wrongdoing, I have... decided to leave my job as foreign minister," Ms Alliot-Marie wrote in her resignation letter to President Nicolas Sarkozy, a copy of which was seen by the AFP news agency.
"For several weeks, I have been the target of political attacks and then in the media, using, to create suspicion, counter-truths and generalisations," she writes.
"For the last two weeks, it is my family's private life that has been suffering real harassment at the hands of certain media", and "I cannot accept that some people use this [campaign] to try to make people believe in a weakening of France's international policy."
On Sunday evening, Mr Sarkozy, in an address on French television, announced Ms Alliot-Marie would be replaced by Defence Minister Alain Juppe in light of the popular protests in the Middle East.
The announcement comes just three months after Mr Sarkozy's previous cabinet reshuffling. Mr Sarkozy made no reference to Ms Alliot-Marie.
Mr Juppe, 65, previously served as foreign minister and prime minister in the 1990s. In 2004, he was convicted of mishandling public funds.
He returned to the cabinet as defence minister in November 2010, when Ms Alliot-Marie moved to the foreign ministry.
Mr Juppe will be replaced by Gerard Longuet, leader of Mr Sarkozy's UMP party in the Senate and the president's long-time collaborator.
Mr Sarkozy's chief of staff, Claude Gueant, will become interior minister in place of Brice Hortefeux.
Mr Gueant will be in charge of restoring the government's reputation as tough on crime with a view to his Mr Sarkozy's expected 2012 reelection bid, observers say.
Ms Alliot-Marie's political career has become collateral damage from the wave of popular protest movements across the Arab world, says the BBC's Hugh Schofield in Paris.
Back at the end of December, as the pro-democracy uprising in Tunisia got under way, but before its significance was apparent, Ms Alliot-Marie visited the country on holiday, and, it emerged later, twice flew on a private jet belonging to businessman Aziz Miled.
It also transpired that on the same trip, her parents signed a property deal with Mr Miled, a man with close links to the former Tunisian leader.
Then in a series of ill-advised semi-denials and retractions about the affair, she only managed to make a bad situation worse, our correspondent adds.
Mr Sarkozy was gravely embarrassed by the affair, which came to symbolise in some eyes an unhealthy personal proximity between French politicians and autocratic leaders in the Middle East and elsewhere, he adds.
Related Internet Links
The BBC is not responsible for the content of external sites.