Silvio Berlusconi: Italy PM's tax fraud trial resumes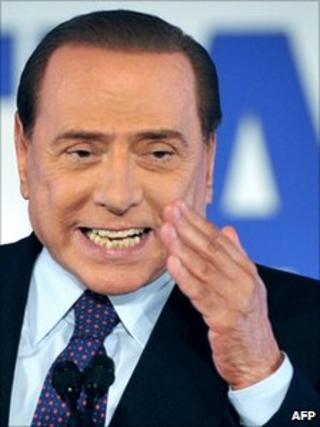 Italian PM Silvio Berlusconi has gone back on trial in Milan but, as expected, has not appeared in court.
The tax fraud case involving his Mediaset business empire is the first of four legal battles facing the Italian leader over the next few weeks.
The trial was suspended in April 2010 because of a law, now partially struck down, granting him temporary immunity.
Two related cases restart in March and he is in court for sex with an under-age prostitute and abuse of power.
Mr Berlusconi, 74, has denied all the allegations against him. He argues that he has been targeted as part of a left-wing campaign by Milan magistrates.
Monday's trial involves allegations that Italy's largest private broadcaster Mediaset inflated the price of rights to broadcast US movies bought via two offshore companies controlled by Mr Berlusconi.
Prosecutors say some of the money declared was skimmed off to create illegal slush funds.
The government's immunity law was partially removed last month by Italy's Constitutional Court. It ruled that individual judges should themselves decide whether Mr Berlusconi had a "legitimate impediment" as an elected official that prevented him from taking part in the hearings.
Although the prime minister did not turn up for Monday's trial in Milan, his lawyers did not attempt to invoke any "legitimate impediment" for his absence from the courtroom, the Ansa news agency reported.
They said he would probably appear at the next hearing on 11 April, Ansa said.
The Italian leader is due to go on trial five days earlier on a charge of paying for sex with 17-year-old nightclub dancer Karima el Mahroug. Prostitution is legal in Italy, but sex with girls younger than 18 is not. He is also accused of trying to persuade police to release her from custody in an unrelated theft case.