Mass funeral for Turkey's Islamist ex-PM Erbakan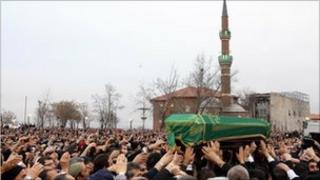 Thousands of mourners have gathered at a mosque in Istanbul for the funeral of Turkey's first Islamist prime minister, Necmettin Erbakan, who died on Sunday.
He served only a year as prime minister before the staunchly secular military forced him to stand down in 1997.
Mr Erbakan's Islamist Welfare Party was banned in 1998 and he was barred from politics for five years for violating the constitution.
The governing AK Party, which has Islamist roots, grew out of Welfare.
Mr Erbakan died aged 84. He served as a mentor to many of the country's current leaders, including President Abdullah Gul and Prime Minister Recep Tayyip Erdogan.
Both were expected to attend the funeral at the Fatih mosque in Istanbul.