Karl-Theodor zu Guttenberg: Should he have gone sooner?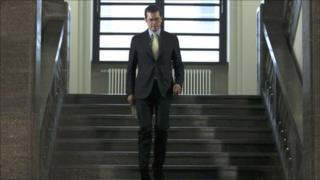 Karl-Theodor zu Guttenberg, seen as one of Germany's rising political stars, has resigned as defence minister after he was found to have copied large parts of his doctoral thesis. But should he have been told to go sooner?
The lesson for a politician in trouble seems simple: If you're caught at it, go quickly.
And the moral for the politician's boss seems clear, too: If he is going to go, push him quickly - don't stand by him and then have to backtrack. Ultimately, it does not look like you are in charge of events.
That, at least, is the general feeling among close watchers of politics in Germany as they analyse the departure of Karl-Theodor zu Guttenberg from his job as defence minister.
As Konrad Jarausch of the Free University in Berlin put it: "It's bad for Merkel and she stuck with him far too long."
'Carelessness'
The doctoral dissertation of Baron zu Guttenberg (what other title should we give him now that he has lost both his doctorate and his ministerial title?) was found to mirror the work of others, word for word and page after page.
The University of Bayreuth which awarded him the doctorate five years ago promptly stripped him of it, just after he had had said he wouldn't call himself doctor for the time being.
The university had been roundly criticised for not spotting the copied words.
Baron zu Guttenberg is a charismatic figure - the "baron" title is genuine.
And his aristocratic background goes back more than 500 years. He is good-looking and married to a glamorous wife. At 39, he is young for a politician.
Perhaps that is why he thought he could ride out the political storm over plagiarism - not that he accepted that that is what it was, but rather a matter of carelessness.
Academia did not agree, and thousands of professors and the like wrote to Dr Merkel whose doctor's title comes from a dissertation on chemistry. They were, they said, appalled.
But the chancellor stood by her man. She had hired a defence minister and not an academic assistant, she said.
It's not clear what she made of his statement when he resigned: "I give particular thanks to the chancellor for all the support she has given me and her great trust and understanding."
He added: "I was always ready to fight. But I have reached the limits of my strength."
But Baron zu Guttenberg is a political fighter. Even with this disgrace, it seems unlikely that he will vanish.
The chances of Angela Merkel's government disappearing at the federal elections in 2013, though, have risen.