De Maiziere named as new German defence minister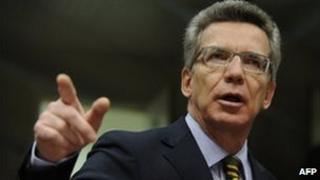 Germany's cabinet has been reshuffled after Defence Minister Karl-Theodor zu Guttenberg resigned in a row over plagiarism, government sources say.
Interior Minister Thomas de Maiziere has now been moved to defence, with Hans-Peter Friedrich taking up the interior post.
Mr Guttenberg stepped down on Tuesday after he was found to have copied parts of his university doctorate thesis.
The scandal had become an embarrassment to Chancellor Angela Merkel.
Announcing Mr de Maiziere's appointment, she said she had known him since 1989, the year when the Berlin Wall fell.
"Since this time we have been linked personally as friends as well as politically," she added.
'Problem-solver'
Mr de Maiziere is a member of her centre-right CDU party, while Mr Friedrich heads the parliamentary group of the CSU, the CDU's Bavarian sister party.
The new defence minister, 57, is one of Mrs Merkel's most trusted lieutenants, having served as her chief of staff in her first term from 2005 to 2009.
He became interior minister after the party returned to power in September 2009 as part of a coalition with the CSU and Free Democrats.
The choice was commended by some political analysts.
Nils Diederich from Berlin's Free University told AFP news agency: "She gets top marks for this appointment."
Mr de Maiziere "is a quiet worker known for solving problems without making a song and dance", he said.
Mr Guttenberg, considered until recently a possible candidate for chancellor, resigned after being stripped of his PhD.
Tens of thousands of German academics had written to Mrs Merkel complaining about his conduct.
The plagiarism scandal led to the aristocrat-turned-politician being nicknamed Baron Cut-and-Paste, Zu Copyberg and Zu Googleberg by the German media.
Pressure on Merkel
The departure of the cabinet's most popular minister has left the government weakened ahead of important regional elections, putting pressure on it not to provide more financial help for the euro zone.
"Things will be tougher for Merkel [domestically] now than if... Guttenberg had stayed," European political analyst Janis Emmanuelidis told Reuters news agency.
"On every issue where the impression is being created that Germans are going to have to pay in return for concessions by European partners, it will be more difficult now."
Even before the resignation, support for the coalition appeared to be slipping.
A nationwide poll by the Forsa institute for Stern magazine suggested support for the CDU and CSU had fallen 2%, to 34%.