Lung cancer 'breakthrough' announced by French doctors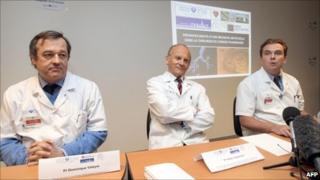 French doctors say they have made a significant breakthrough in the treatment of lung cancer.
A medical team at Bobigny hospital in Paris removed a patient's cancerous growth, and then gave him an artificial airway, or bronchus.
The bronchus was made from reconstituted aorta, the body's largest artery.
The pioneering treatment in October 2009 avoided the complete removal of the patient's lung.
In the later stages of lung cancer, only a third of patients survive a year.
The Paris patient, 78, is said be fit and well, some 16 months after surgery.
Serious tumour
The surgeons developed the procedure over ten years but waited until now to announce their results, to see how their first patient fared.
On the lower part of the lung, they grafted the replacement bronchial tube made from reconstituted aorta.
The tube is supported by a metallic support, or stent.
And because it is from a reconstituted aorta, the doctors do not need to administer anti-rejection drugs, which react to cancer treatments.
The patient they treated had a very serious tumour in the centre of his lung.
The doctors say the procedure gives them a better safety margin as they remove the cancerous areas infecting the patient's airway and lungs.