Elderly gunman kills three in French town of Rivesaltes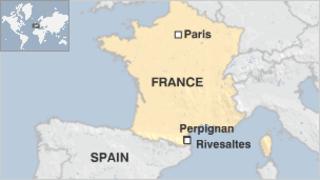 A man of 78 shot dead two council workers and a passer-by on a street in the southern French town of Rivesaltes before trying to take his own life.
The gunman, a former plumber who lived in the town near Perpignan, was apparently in the grip of a "murderous rage", a local prosecutor said.
He was taken to hospital suffering from serious injuries.
There was no immediate official comment on a possible motive for the shooting, which was carried out with a rifle.
The passer-by is believed to be another pensioner.
Rivesaltes, which has a population of less than 9,000, is a wine-growing town in the Western Pyrenees region.