Euro MP allowances boosted again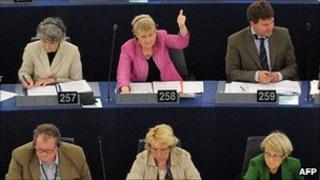 Euro MPs have awarded themselves a 1,500-euro (£1,278; $2,083) increase in their monthly office allowance.
The decision adds 13.2m euros to the European Parliament's 2011 budget.
The extra cash will enable MEPs to hire more, or better qualified, assistants, a parliament statement said.
Last year the 27 EU member states' governments limited the total EU budget rise for 2011 to 2.9% - not the 6% that MEPs wanted. MEPs' pre-tax monthly salary is set at 7,956.87 euros.
MEPs also received a 1,500-euro increase in their office allowance last year. They defended the budget rise by arguing that the Lisbon Treaty - which greatly boosted the parliament's powers - had increased their workload.
On top of their salary, the latest increase will raise MEPs' monthly 4,299-euro office allowance to 5,799 euros.
Their official trips to Brussels and Strasbourg are refunded, and they get a separate annual travel allowance of 4,243 euros.
In addition, MEPs get a flat-rate allowance of 304 euros for each day of attendance at official parliament meetings, to cover accommodation and meals. It is paid only if they sign the attendance register.
The office allowance increase was adopted by the parliament's budgetary control committee on Thursday.
The largest MEP groupings - the centre-right European People's Party (EPP) and centre-left Socialists and Democrats (S&D) - backed the increase.
It was opposed by the liberals (ALDE), left-wingers and the Greens.