Frankfurt airport shooting: Jammed gun 'saved lives'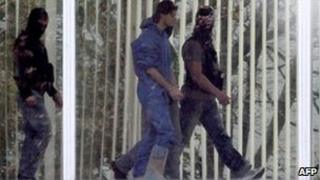 More people might have died in the attack on a US air force bus at Frankfurt Airport had the killer's gun not jammed, German prosecutors say.
The alleged gunman, they add, has confessed, saying he wanted to kill Americans "as revenge for the American mission in Afghanistan".
They say there is no evidence he was part of any terrorist group.
Washington has released details of the two airmen killed in Wednesday's attack, which left two others wounded.
Officials waited to reveal their identities until their closest relatives had been notified.
The dead men were named as Senior Airman Nicholas Alden, 25, of Williamston, South Carolina, and Airman First Class Zachary Cuddeback, 21, of Stanardsville, Virginia.
The former had been assigned to the 48th Security Forces Squadron at RAF Lakenheath in Britain, while the latter had been assigned to the 86th Vehicle Readiness Squadron at Ramstein Air Base, near Frankfurt.
Dramatic details of the attack were given to reporters by federal prosecutor Rainer Griesbaum on Friday. Among other things, it emerged that one of the gunman's would-be victims had given chase and caught him after the attack.
Afghanistan question
The suspect has been named as Arid Uka, 21, an ethnic Kosovo Albanian said to have been born in Germany.
Mr Uka refused to talk when formally charged on Thursday with two counts of murder and three counts of attempted murder, Mr Griesbaum said.
But he did make lengthy statements to police shortly after the Wednesday attack, the prosecutor added.
According to Mr Griesbaum, Mr Uka said he had been inspired to attack US servicemen after watching a YouTube video the day before, which apparently showed a raid on a home by US soldiers in Afghanistan.
When he saw the busload of 15 airmen parked outside the airport's Terminal 2, he approached an airman outside and, under the pretext of asking for a cigarette, asked if the servicemen were on their way to Afghanistan.
"When he said yes, he shot the 25-year-old serviceman from behind in the head," Mr Griesbaum said.
Mr Uka then allegedly stormed on to the bus, yelling "Allahu Akbar!" (Arabic for "God is great!") and shot the driver in the head, killing him as well, the prosecutor said.
He then allegedly shot a 25-year-old airman who was sitting on the bus twice, and then turned his gun on another airman, 21, and fired once, injuring him too.
Six bullets left
"Then he tried to shoot a 22-year-old," Mr Griesbaum went on.
"He pointed his pistol at his head and pulled the trigger twice, but the pistol jammed and no shots came out."
There were still six bullets in the magazine, the prosecutor said.
Unable to fire again, Mr Uka allegedly fled from the bus but the would-be final victim gave chase and caught up with him in the terminal at the same time as two German police officers, and apprehended him.
German authorities believe that Mr Uka became an Islamic radical recently and was not part of a wider network, but Mr Griesbaum said the attack underscored "the danger of Islamists acting alone".