Danish child hostages moved to ship off Somalia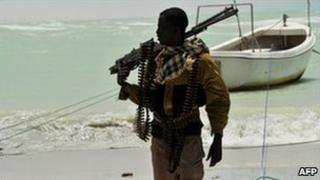 Somali pirates say they have moved a party of Danes including three children from their hijacked yacht to a ship moored off the Somali coast.
Spokesmen for the pirates said the seven Danish citizens had been put on a ship where other foreign hostages are already being held.
Jan Quist Johansen, his wife and their children, aged 12 to 16, were seized with two other adults on 24 February.
The pirates have warned they will die if any bid is made to rescue them.
It is rare that children have been abducted by the pirates who usually target cargo ships sailing near the Gulf of Aden, one of the world's busiest shipping lanes.
The Danish yacht was hijacked two days after four US citizens aboard another hijacked vessel were shot dead, reportedly by their captors as US naval forces closed in.
Piracy is a highly lucrative trade in Somalia, where gangs can often demand millions of dollars in ransoms.
According to the EU's anti-piracy naval force, the pirates are holding a total of 31 vessels and nearly 700 hostages along the coast of Somalia, which has not had a properly functioning government for decades.
'Ransom plans'
Mr Johansen is being held along with his wife Birgit Marie Johansen, their sons Rune and Hjalte, and their daughter Naja.
It is believed their yacht dropped anchor near the Somali coastal village of Hafun late on Tuesday.
A Somali pirate who gave his name as Muse Abdi told the Associated Press news agency the family had been transferred to another, larger pirated ship as a precaution.
"They are safe," he said.
"They were just transferred from the boat to the big ship. They have been added to other nationals in another ship to avoid any possible attack."
Ibrahim Harawo, who said he was a member of the pirate ship's crew, was quoted by the Norwegian daily Verdens Gang as saying the Danish group had been split up - "on the same ship but in different places".
Another pirate spokesman, Abdullahi Mohamed, said all of the Danes would die if a rescue was attempted.
He added that the family's captors were discussing how big a ransom to demand, and added that investors backing the pirate gang were angling for a large sum.
'Insane' route
The Johansen family are from Kalundborg, 120km (75 miles) west of Copenhagen.
They had been planning to enter the Mediterranean through the Suez canal from the Red Sea, said Ole Meridin Petersen, chairman of the Kalundborg yacht club.
While they were aware of the hijacking of the US yacht, but it is not clear if they had heard about the Americans' deaths.
On 19 February, the Johansens blogged that they had drawn up a "piracy plan for who does what if we are attacked". No details were given.
When, a day later, they spotted counter-piracy patrol planes, they wrote: "It is reassuring that they look after us."
Writing about the US hijacking, they said: "This is far over thousands of kilometres away and the Arabian Sea that we sail in is the size of Europe".
Per Gullestrup, head of Danish ship-owner Clipper, said it was "totally insane" for a yacht to sail on its own into waters where much bigger commercial ships often travel in convoys and hire armed guards.
"They sailed right into the pirates' arms," he said.