Norway: Snowmobilers die in Finnmark mountain storm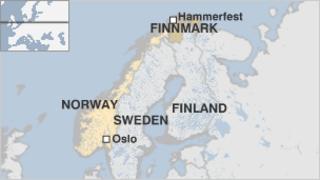 Three Norwegian snowmobilers, all aged 18 or 19 and from the same town, have died in a snowstorm while on a tour in the far northern region of Finnmark.
A helicopter sighted the bodies of two men after seven survivors were rescued, one of whom died in hospital of injuries from the cold.
It is believed the two found later had frozen to death after getting lost. All three were from the town of Hammerfest.
The nine snowmobile riders had been on a tour of the Porsanger mountains.
Four of the six who lived were treated for mild hypothermia.
A search was begun on Thursday after the group alerted police that they were lost but rescuers were hampered by poor visibility and strong winds, with the helicopter unable to join the operation until conditions improved.
Police said the group of six men and three women, aged between 17 and 23, had not been equipped for the harsh weather conditions.
"They were out there for hours," Vestfinnmark police spokesman Torbjorn Aas added.
"The weather has been extremely bad."