Fine Gael and Labour back Irish leaders' coalition deal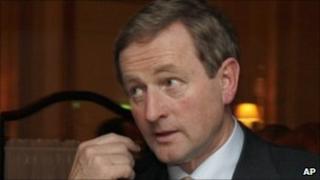 The two largest parliamentary parties in the Republic of Ireland have backed their leaders' decision to form a coalition government.
Delegates at the Labour Party conference on Sunday voted to enter government with Fine Gael.
The Fine Gael parliamentary party unanimously endorsed the planned programme for government, in a separate move.
It followed six days of negotiations by the parties.
Earlier, the leaders of the two parties said they had agreed to form a new coalition government.
Talks between the centre-right Fine Gael and the centre-left Labour Party focused on how to tackle the deficit and public sector cuts.
Last week's election saw Fianna Fail roundly defeated over its handling of Ireland's economic crisis.
Fine Gael fell short of a majority with 76 seats while Labour took 37 seats.
Banking crisis
After a meeting of his party on Sunday, Fine Gael leader and incoming prime minister Enda Kenny said members were "very happy" with the agreement.
Labour leader Eamon Gilmore said the programme for government was not a continuation of the policies being pursued by the outgoing government, but a "clear departure".
Both leaders pledged in the election campaign that they would seek to renegotiate the terms of Ireland's 85bn euro (£73bn; $119bn) joint European Union-International Monetary Fund (IMF) bailout.
But the parties differed on the scale of public sector cuts, the split between tax rises and spending cuts needed to reduce the budget deficit and the time frame for cutting the deficit.
On Sunday, it emerged the new government would stick to its predecessor's budget targets as set out at the time of its EU/IMF rescue package.
But Mr Kenny also reiterated he wants to renegotiate the strict terms attached.