Danish immigration minister Hornbech fired over scandal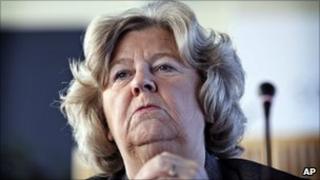 Denmark's Immigration Minister Birthe Roenn Hornbech has been sacked after 36 stateless Palestinians were wrongly refused citizenship.
Ms Hornbech, 67, admitted that she knew her department had broken a UN convention in 2008 but failed to report the matter to MPs until 2010.
Shortly after PM Lars Loekke Rasmussen announced his decision, a second minister announced she was resigning.
Education Minister Tina Nedergaard said she was going for personal reasons.
Since it came to power in 2001, Denmark's Liberal-Conservative coalition government has tightened immigration and citizenship laws and has relied on the support of Pia Kjaersgaard's right-wing Danish People's Party to stay in power.
In a statement, the prime minister said he had decided to set up an independent inquiry into the handling of stateless people by the immigration ministry.
The scandal surrounding Ms Hornbech began in January when it emerged that her ministry had denied Palestinian youths citizenship. Under the 1961 UN convention on stateless persons, to which Denmark is a signatory, stateless children born in a country have the right to citizenship there before their 21st birthday.
Mr Loekke Rasmussen said that 36 stateless persons had "mistakenly been denied Danish nationality and that parliament should have been informed at an earlier point".
Last month, Danish media reported that letters were being sent to more than 400 stateless Palestinian children and young adults whom they had failed to inform of their right to Danish nationality.
Although Ms Hornbech had belatedly informed parliament that the UN convention had not been observed in 2010, opposition parties complained that her department had failed to correct its errors until this year.
The Politiken newspaper reported that legal experts had repeatedly warned the government about the mistakes.
The Information newspaper said officials in Ms Hornbech's own department had advised her as early as August 2008 that the cases were being wrongly dealt with.
Education Minister Tina Nedergaard's decision to resign is not linked to the immigration scandal, although she said the timing was connected to the prime minister's plans for a cabinet reshuffle.
Both women are members of Lars Loekke Rasmussen's Liberal party and elections are due to take place by November.
Ms Hornbech is being replaced by Development Co-operation Minister Soeren Pind.