Former Brazil stars in Chechnya for controversial game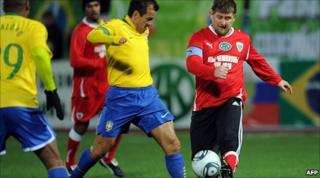 Former Brazilian football stars have played a celebrity match in Chechnya against a team led by controversial Chechen President Ramzan Kadyrov.
Mr Kadyrov scored twice in the match in Grozny, but his team lost 6-4 to the Brazilian all-stars who included Romario, Dunga, Bebeto and Cafu.
Mr Kadyrov said he organised the game to show Chechnya had recovered from years of separatist conflict.
The Kremlin-backed leader has been widely accused of human rights abuses.
He said the Brazilians were not paid to appear but came out of goodwill and in return for a donation to flood victims in Brazil.
Before the game, the 34-year-old Chechen leader fired up the packed stadium with cries of "God is great" and also performed a traditional Chechen dance at half-time.
Dunga, who coached the all-stars team, would not be drawn on whether the Brazilians went easy on the host team.
"For us it was a great joy to get together and also give joy to the public," he said.
The Chechen squad included current players from local team Terek Grozny, former players from the national teams of the Soviet Union and Russia, and former German midfielder Lothar Matthaeus, who now coaches Bulgaria.
After the game, Mr Kadyrov said it had shown that Chechnya was recovering from war.
"They write everywhere about the killings and explosions in the Chechen republic," he said.
"Particularly in Europe they write that Kadyrov is bad and Russia is bad, there is no normal life for the people, and we are showing today that the population of one million on the territory of the Chechen republic is developing sports, education and culture, and that we are building an honourable future."
Islamic rules
On Monday night, Mr Kadyrov shrugged off accusations that he was imposing strict Islamic rules such as the wearing of headscarves on women in Chechnya.
He has openly defied Russian law by encouraging Chechen men to have more than one wife.
Saying he had just one wife and loved her but might take another one some day, he added: "If I see another woman prettier than her, why would I go somewhere and sin if Islam allows me to marry her?"
On the subject of payment for his footballer guests, Mr Kadyrov said they had come to Chechnya because "some of his friends" had helped Brazil recover from flooding. He gave no specifics.
The stadium in Grozny was where Mr Kadyrov's father, Akhmad, was blown up by militants in 2004.
Mr Kadyrov denied his visitors faced any security threat in Chechnya, which fought two bloody separatist wars with Moscow after the fall of the USSR.
"If some people think that terrorism is not dying here, they are deeply wrong," he said.
The Brazil players arriving at Grozny's airport were decked out in the green and red of Terek Grozny and waved to hundreds of fans waiting for them.
Terek Grozny is currently coached by former Netherlands football star Ruud Gullit.