Election of Kosovo's president ruled illegal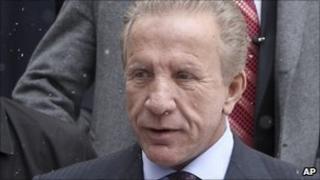 The election of Kosovo's president last month was unconstitutional, its highest court has ruled after opposition parties complained of irregularities.
Opposition parties said there had not been enough members of the Assembly of Kosovo present to elect Behgjet Pacolli on 22 February because of a boycott.
It is not clear if there will be another election while Mr Pacolli remains in post, or if he must resign.
The ruling was the second against a Kosovan head of state in six months.
Fatmir Sejdiu resigned in September after the Constitutional Court said he had violated the constitution by also serving as a party leader.
Mr Pacolli, a multi-millionaire businessman, was elected after a power-sharing deal with Prime Minister Hashim Thaci.
The agreement followed a parliamentary poll in December that Mr Thaci's Democratic Party of Kosovo narrowly won.
The Democratic League of Kosovo and the Alliance for the Future of Kosovo boycotted February's vote.
They cited Mr Pacolli's history of ties to Russia, which opposed Kosovo's 2008 secession from Serbia.
The parties complained that there were not enough MPs present to start voting as opposition parties had already left the session.
They also said MPs present during the vote were threatened during a break before the third round of voting when Mr Pacolli was elected.
Kosovo independence has been recognised by 75 countries, including the US and major EU member states.
But Serbia, with the help of its ally, Russia, has vowed to block Kosovo from getting a UN seat.