Sweet success for Lindt in chocolate Easter bunny case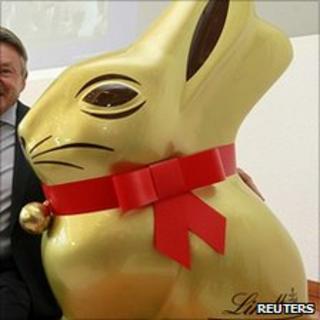 The Swiss chocolate firm Lindt and Spruengli has won a marathon court battle to protect its golden Easter bunnies from an Austrian rival.
A Vienna court has told the Hauswirth company to stop making its own chocolate rabbits wrapped in gold foil.
The legal battle dates back to 2004. The Lindt bunny, sporting a red ribbon and bell, first appeared in 1952 and was given EU trademark status in 2000.
The Vienna court said Hauswirth's bunny could be confused with Lindt's.
A Lindt manager, Adalbert Lechner, said the judgement had confirmed his company's view that "Hauswirth harmed our trademark".
"We hope the legal proceedings are finally closed with this judgement," he said.
Hauswirth had argued that Lindt was using its trademark clout to crush competitors.