Kafka's letters to be displayed at University of Oxford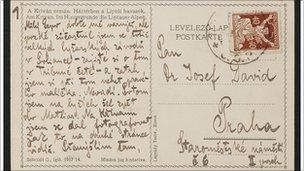 A collection of letters from the late author Franz Kafka to his sister are to go on display at Oxford University.
The university's Bodleian Library and Deutsches Literaturarchiv in Marbach (German Literary Archive) have jointly bought the "Letters to Ottla" archive.
The letters had been scheduled for public auction in Germany but an agreement has been reached between the two institutions and the sellers.
Kafka, born in Prague to Jewish German-speaking parents, died of TB aged 40.
It is thought to be the first time that a literary archive has been purchased jointly by two institutions in different countries with the intention to share access and scholarly activities.
The archive will remain available for academic and public consultation as part of the existing major Kafka archives already held by the Bodleian and Marbach.
The collection of more than 100 autographs (comprising letters, postcards and picture postcards) contains almost all the surviving correspondence that Kafka sent to the youngest of his three sisters.
Richard Ovenden, associate director of the Bodleian Libraries, said: "We are delighted that the two institutions that already preserve the majority of Kafka's material can now work together with this innovative arrangement: instead of competing, we are collaborating.
"With the proposed partnership with Marbach, the University of Oxford will strengthen its position as an important centre for studies of German and Jewish literature and culture."
The Ottla letters had previously been on deposit at the Bodleian Libraries but had remained in the ownership of Kafka's descendants.
The letters were preserved by Ottla's daughters in Czechoslovakia and arrived at the Bodleian due to the efforts of Sir Malcolm Pasley, Professor of German at the University of Oxford, for a price that will remain confidential.
Ottla was killed in Auschwitz concentration camp in 1943.
Related Internet Links
The BBC is not responsible for the content of external sites.