Ivory Coast: Ouattara forces storm Gbagbo residence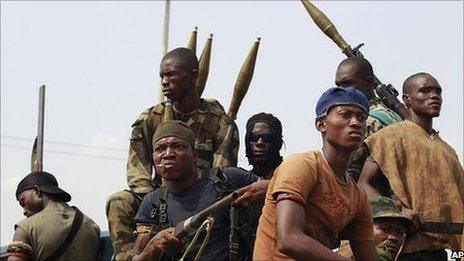 Forces opposed to Ivory Coast leader Laurent Gbagbo have attempted to seize him from his Abidjan residence.
Heavy fighting broke out around his compound but forces loyal to Mr Gbagbo's rival Alassane Ouattara now appear to have called off their attack.
France said UN-brokered talks had failed, blaming Mr Gbagbo, who had been negotiating terms for his departure.
Mr Gbagbo insists he won November's run-off vote, but election officials found Mr Ouattara was the winner.
That result was certified by the UN, but Mr Gbagbo has refused to leave office.
Mr Gbagbo and his family are believed to be sheltering in the basement of the presidential residence, which was controlled by his troops.
Gun, rocket and mortar fire was reported around Mr Gbagbo's residence in an upmarket area of Abidjan, Ivory Coast's main city.
Two days of heavy fighting had stopped late on Tuesday and negotiations with Mr Gbagbo carried on throughout the night.
But by Wednesday morning it appeared the patience of pro-Ouattara forces had run out.
"We are going to get Laurent Gbagbo out of his hole and hand him over to the president of the Republic," said Sidiki Konate, spokesman of Mr Ouattara's prime minister, Guillaume Soro.
A resident who lives close to Mr Gbagbo's residence told Reuters of fighting and explosions.
"We can hear automatic gunfire and also the thud of heavy weapons. There's shooting all over the place," Alfred Kouassi said.
A spokesman for Mr Ouattara said fighters had been given strict instructions not to harm Mr Gbagbo.
However, by mid-afternoon the sounds of battle had died away and Mr Ouattara's troops were reported to have pulled back.
The BBC's John James, outside Abidjan, says a new standoff appears to be developing, with the anti-Gbagbo forces possibly regrouping for an overnight assault.
In Paris, French Foreign Minister Alain Juppe said Mr Gbagbo's "intransigence" had caused talks to fail.
"The conditions set by President Ouattara are very clear: he demands that Laurent Gbagbo accepts his defeat and recognises the victory of the legitimately elected president," he told parliament.
"That's where we stand today, so sadly the arms have begun to talk again."
French and UN troops are attempting to maintain security around Abidjan under the terms of a UN Security Council resolution, but Mr Juppe said they were not involved in the offensive against Mr Gbagbo.
There are also growing concerns about the humanitarian situation across Ivory Coast, where hundreds are believed to have died during the continuing conflict.
In Abidjan most of the city's residents are now confined to their homes, and those who do venture out do so with great caution, often keeping their hands above their heads.
The International Committee of the Red Cross (ICRC) is beginning to distribute 12 tonnes of supplies to those worst-affected. The International Criminal Court says it is preparing to investigate reports of human rights abuses during the fighting
Speaking by phone to French radio and sounding defiant, Mr Gbagbo denied he was hiding in a bunker.
"I am in the residence - the residence of the president of the republic. Now, when it rains, can't one take shelter inside one's house?"
Mr Gbagbo had earlier denied he was surrendering, saying he was only negotiating a truce.
"I won the election and I'm not negotiating my departure," he said.
On Monday pro-Ouattara fighters, backed by UN and French helicopters attacked Mr Gbagbo's military installations in Abidjan, saying they aimed to protect civilians.
Following Tuesday's ceasefire the city passed a largely quiet night, apart from shootings blamed on gangs, but its population of four million remained indoors.
In other developments, the EU imposed fresh sanctions on Mr Gbagbo on Wednesday, banning the purchase of bonds from his "illegitimate government".
Last November's election was intended to reunite Ivory Coast which split in two following a northern rebellion in 2002.
The electoral commission pronounced Mr Ouattara the victor, but Ivory Coast's Constitutional Council said Mr Gbagbo had won.
The US, the UN and the EU recognised Mr Ouattara as the winner, but both candidates had themselves sworn in as president and a stand-off ensued.
Skirmishes and battles between the rival forces have since taken place across Ivory Coast, culminating in Mr Ouattara's troops sweeping into Abidjan at the end of March.