Iranian dies after setting himself alight in Amsterdam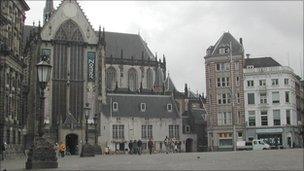 An Iranian asylum seeker has died after setting himself alight in central Amsterdam, police have said.
The 36-year-old man had been taken to hospital with severe burns after torching himself on the city's main square on Wednesday.
His initial asylum request had been rejected but his appeal to remain was being considered, reports said.
According to reports in the Dutch media, the man had an argument with a group before setting himself alight.
He had apparently soaked his clothes in a highly flammable liquid.
He is reported to have stood motionless and silent as bystanders and shopkeepers attempted to extinguish the flames using coats and buckets of water.
Police said there was no immediate explanation for his act and that an investigation into the case was under way.