Russia's President Medvedev denounces cyber-attack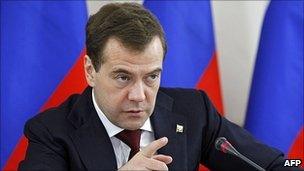 Russian President Dmitry Medvedev has condemned as "outrageous and illegal" a cyber-attack on a popular social networking website that hosts his blog.
The LiveJournal site was hit by a denial-of-service attack on Wednesday.
The site crashed after being bombarded with messages from thousands of infected computers, an expert from the Kaspersky Labs computer company said.
Russian media say a similar attack has now hit Novaya Gazeta, a newspaper often critical of official policies.
In his blog, President Medvedev said: "As an active user of LiveJournal I consider these actions outrageous and illegal.
"What has occurred should be examined by LiveJournal's administration and law enforcement agencies."
The internet has become a major forum for free speech in Russia, where many broadcasters and newspapers are influenced by powerful state or corporate interests.
Novaya Gazeta's website could not be accessed on Friday, following the cyber-attack, which began on Thursday.
Alexander Gostev, of Kaspersky Labs, told Moscow Echo radio the attack was coming from thousands of infected computers from China, the US and Western Europe.
A spokesperson for Novaya Gazeta, quoted by Interfax news agency, linked the attack to the paper's effort to launch an "online parliament".
Nadezhda Prusenkova said: "We would like to create a platform to serve as an alternative to the incumbent authorities, where the problems which the authorities either ignore, or just choose to ignore, could be discussed."
Sup Media, the owner of LiveJournal, said it was "delighted" that Mr Medvedev had "criticised the recent hacker attacks in the strongest terms".
"We will continue to investigate the source of these attacks and work to improve our systems to prevent any recurrence," Sup Media CEO Annelies Van Den Belt said.
Sup Media described Mr Medvedev as "an enthusiastic blogger on LiveJournal for the past two years".
Related Internet Links
The BBC is not responsible for the content of external sites.