Dutch gunman van der Vlis faced illegal weapons probe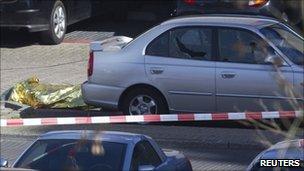 The gunman who killed six people in the Netherlands before taking his own life had previously been investigated over illegal weapons.
A Dutch prosecutor said Tristan van der Vlis, 24, had faced an inquiry in 2003 but had not been convicted.
He went on a shooting rampage with an automatic weapon on Saturday at a shopping centre in Alphen aan den Rijn.
Officials said he had permits for five weapons. It is not clear if one of them was used in the shootings.
Dutch law bans possession of automatic weapons.
The gunman came from the town, was known to police and "almost certainly operated alone", said public prosecutor Kitty Nooy.
She said he was a member of a shooting club who was allowed to own five weapons, of which he actually possessed three.
"It is unclear whether he used one of them in the shooting," she said.
Van der Vlis entered the Ridderhof shopping centre around midday and opened fire. He was described as wearing a bomber jacket and camouflage trousers.
He killed five people before shooting himself fatally in the head. One of the four critically injured later died. At least seven other people were also injured.
Children were among the casualties, but officials say they are not prepared to say whether they were among the dead or the injured due to privacy reasons.
Witnesses said van der Vlis appeared to be shooting at random. Police arrived just as the gunfire was ending.
Mayor Bas Eenhoorn called the incident "unprecedented" for the town of about 70,000 people.
Officials said van der Vlis left two notes, neither of which gave an explanation for his actions.
One note, found by his mother, spoke of his suicidal feelings, town's Mayor Bas Eenhorn said.
The other note was found in his car parked outside the shopping centre.
"The letter said: 'There are explosives in three other shopping malls in Alphen aan den Rijn'," prosecutor Kitty Nooy said.
The shopping centres were evacuated but no bombs were found.
Ms Nooy said van der Vlis had not been in the military and had no history of dealing with explosives.
The Netherlands has strict gun laws and shootings are rare. Despite this, two people were killed on 2 April in a shooting in the same district of the town. Officials have not made a link between the two incidents.