EU Commission warns of European Arrest Warrant misuse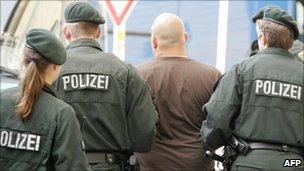 The European Arrest Warrant has speeded up extraditions and netted some major criminals but too often it is used for minor offences, an EU report says.
The European Commission has urged the 27 EU member states to issue warrants "in a proportionate way".
"There's no sense using a European Arrest Warrant (EAW) for a bicycle thief," Justice Commissioner Viviane Reding said, presenting the report.
In 2009 Poland issued the most warrants - 4,844. Germany was next, with 2,433.
In total across the EU 15,827 warrants were issued, of which 4,431 were executed.
The figures for the UK were 220 warrants issued, 80 executed.
The EAW system has been in effect since 2004. The goal was to make extraditions across Europe more efficient.
The report says the EAW has enabled "many successes", for example, it has brought dozens of suspected drug smugglers, murderers and child sex abusers back to the UK from Spain.
The EAW helped police in 2005 to catch one of the would-be London bombers, who had fled to Italy; a German serial killer who fled to Spain; and a gang of armed robbers sought by Italy, the Commission says.
But EU member states still need to develop trust between their judiciaries, and that effort is undermined when the EAW is used for minor crimes, Ms Reding said.
In addition, suspects arrested in one country sometimes lack legal representation in the country that issued the arrest warrant.
The Commission also raises concerns about detention conditions and the length of pre-trial detention in some cases.
The EAW has cut the time it takes to extradite a suspect, from an average of a year previously to 16 days now when the suspect agrees to be transferred, or 48 days when the suspect does not agree.
The human rights charity Fair Trials International says EAWs are often used for minor crimes, which "puts huge pressure on the police and courts".
It says extraditing people for petty crimes is "grossly disproportionate".
The group also cites some "serious cases of injustice" involving EAWs. They include the case of Deborah Dark, a British woman pursued across Europe because of an EAW issued by France, although she had been cleared of drug charges years previously.
Related Internet Links
The BBC is not responsible for the content of external sites.