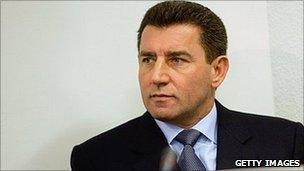 When Ante Gotovina led Croatian forces to recapture the breakaway region of Krajina in 1995, many of his compatriots saw him as a hero.
The three-month Operation Storm - to crush the self-proclaimed Krajina Serb Republic within Croatia - brought the former French legionnaire, who was once convicted of robbery and extortion, to the pinnacle of Croatian nationalism.
The first days of the operation changed the course of the war.
But it was not long before war crimes prosecutors became interested and alleged that the general was responsible for a campaign of ethnic cleansing.
About 150 Serb civilians were killed and more than 200,000 left their houses in long columns of cars and tractors laden with possessions.
This was compounded by widespread destruction of Serb communities - actively encouraged by Mr Gotovina, the UN war crimes tribunal has heard.
He was indicted on war crimes charges in 2001, but denies any responsibility.
Born on 12 October 1955, near Zadar, on Croatia's Adriatic coast, Ante Gotovina left Tito's communist Yugoslavia at the age of 16.
He spent time on a merchant ship before joining the French Foreign Legion, where he built a reputation as a fearsome soldier with a taste for beautiful women.
He fought in Chad and spent much of the 1980s in Latin America, notably Guatemala, where he trained paramilitaries fighting that country's vicious civil war.
Service in Paraguay, Colombia, Argentina and Brazil followed, and he eventually won French citizenship.
He also honed his taste for the high life. The Canary Islands became a regular haunt, and it was in Tenerife where Spanish police eventually arrested Gen Gotovina in 2005 to face trial in The Hague.
Originally he had headed to the Spanish islands to rest his war injuries, but he soon joined a paragliding club in San Agustin, Gran Canaria, becoming a familiar face in a string of upmarket resorts.
The 1980s also brought scandal. A French court convicted him of robbery and extortion, and there were reports of a growing involvement in right-wing politics. Chief among his allies was Franjo Tudjman, the nationalist leader later to become president of independent Croatia.
A criminal conviction prompted a move into the private security business, and eventually, as Tudjman declared Croatian independence in 1991, a return home.
Ante Gotovina quickly emerged as Croatia's top military commander, fighting on the Bosnian front in 1994 before taking control of Operation Storm.
He is alleged to have failed to prevent the murder of 150 Serbs killed by shooting, stabbing or burning during the offensive.
In 2000, new Croatian President Stjepan Mesic ordered Ante Gotovina and six other generals into early retirement after they refused to co-operate with war crimes probes.
A year later Gen Gotovina was indicted by The Hague.
Croatia says he fled into exile almost immediately, sparking a four-year manhunt that came to an abrupt end during dinner at a Tenerife hotel.
Related Internet Links
The BBC is not responsible for the content of external sites.