Joint Russian-Polish sign to mark Smolensk plane crash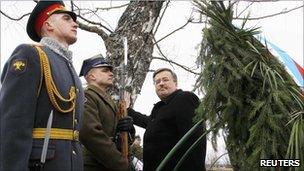 The presidents of Russia and Poland have agreed to create a joint memorial marking the plane crash that killed former Polish President Lech Kaczynski.
Both leaders laid wreaths on Monday at the site of the crash which killed 95 other victims, near the Russian town of Smolensk, one year ago.
Poles were angered after the Russians put up a new plaque at the crash site.
It omits reference to the purpose of Mr Kaczynski's ill-fated trip: to mark the 70th anniversary of a Soviet massacre.
For decades Moscow denied responsibility for the Stalin-era killing of thousands of Poles at the Russian forest of Katyn in 1940.
The new bi-lingual plaque appeared at the weekend.
It has replaced the original Polish-language one which referred to the Katyn "genocide".
"I want to announce today that we have agreed on the creation of a special international group who will design the memorial," AFP news agency reported Russian President Dmitry Medvedev as saying on Monday.
His announcement followed talks with Polish President Bronislaw Komoroski.
The first anniversary of the 10 April crash has been further marred by the refusal of the former president's twin brother, Jaroslaw Kaczynski, to attend official commemorative ceremonies.
He has condemned the Polish government's handling of the affair and held his own rival events on Sunday's anniversary.
The affair has tested Poland and Russia's diplomatic ties, which have been improving.