Belarus arrests several over Minsk metro bomb blast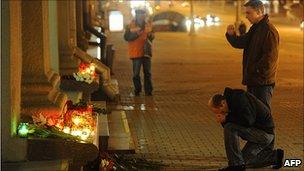 Several people have been arrested in Belarus following a bombing on the Minsk metro that killed 12 people and injured 126, prosecutors say.
The bomb, packed with nails and ball bearings, rocked Oktyabrskaya station at rush hour on Monday evening. It is believed to have been radio-controlled.
Belarus President Alexander Lukashenko said it may have been "a gift from abroad" to destabilise the country.
In recent years Belarus has been spared such bombings - unlike nearby Russia.
The authorities are calling it a terrorist attack.
Mr Lukashenko told police to "turn everything inside out" in their search for the bomber or bombers.
The Belarus Interior Minister, Anatoly Kuleshov, said the bomb, equivalent to about 5kg (11 pounds) of TNT was intended to "kill as many people as possible". It is thought to have been left under a platform bench.
The authorities compiled identikit images of two men suspected of the attack. Later, the deputy prosecutor was quoted on state TV as saying that several people had been arrested, without giving a number or any other details.
He also said Russian investigators would arrive on Wednesday to assist Belarus in the hunt for the culprits.
The explosion happened at 1755 local time (1555 GMT), as people were getting off a train at the station. It is one of the busiest in Minsk, linking the city's two metro lines.
Witnesses described a scene of carnage, with bodies strewn about, many missing limbs.
Security forces are now conducting checks on all ammunition and explosives held by Belarusians, whether legally or illegally, Mr Kuleshov said, quoted by the Belarus news agency Belapan.
Belarus was littered with ammunition after World War II and the authorities say some people still trade in it today.
Authorities also moved swiftly to install metal detectors at some Minsk metro stations.
In televised remarks, Mr Lukashenko said the attack may be linked to an explosion during Independence Day celebrations in 2008, in which 50 people were hurt. That crime was never solved.
Oktyabrskaya station is about 100 metres from the president's main office and residence.
"These are perhaps links in a single chain. We must find out who gained by undermining peace and stability in the country, who stands behind this," Mr Lukashenko said.
Mr Lukashenko, who has ruled Belarus since 1994, claimed victory in a presidential election last December, but international observers condemned the vote.
When the opposition called a rally in protest, about 600 people - activists and presidential campaigners - were rounded up and arrested. Some have received heavy jail sentences and others are still in custody, awaiting trial.
The European Union and the United States imposed a travel ban on Mr Lukashenko and his inner circle because of the crackdown.
Mr Lukashenko has previously said the opposition rally was an attempted coup financed by the West.
Tensions are rising in the former Soviet republic, says the BBC's David Stern in Kiev. As well as the political tensions, Belarus has also suffered economic difficulties since the beginning of the year.