EU demands Tunisia do more to stop illegal migration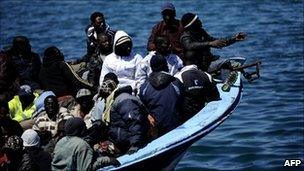 The European Commission's president has said Tunisia must do more to prevent migrants entering Europe illegally, and readmit its citizens who have done so.
Jose Manuel Barroso said the EU wanted "strong and clear action" from Tunisia in return for the 140m euros (£124m; $202m) in extra aid it was considering.
Some 25,000 North Africans are thought to have fled the unrest in the region.
Italy, where most of the migrants have ended up, has complained that other EU states are not helping bear the burden.
Most EU governments argue that the North Africans are mostly economic migrants, and not asylum seekers or refugees in need of protection.
They say Italy should be able to deal with them, and have criticised Italy's decision to start offering them temporary residence permits that would allow them to travel freely throughout the Schengen Area.
At a meeting of EU interior ministers in Luxembourg on Monday to discuss illegal migration, Italy's Roberto Maroni said that if his country's appeal was ignored, it was "better to be alone than in bad company".
"Italy has been left alone," he said. "I wonder whether in this situation it makes sense to remain in the European Union."
The ministers agreed, however, to the voluntary resettlement of some of the 1,000 people who have arrived in Malta. Most of them are Eritreans and Somalis who fled the violence in Libya and cannot be deported.
They also agreed to the need to find more money for the EU's border control agency, Frontex, to strengthen its ability to patrol the Mediterranean Sea.
Before Mr Barroso's trip to Tunis, Tunisia's government had reportedly agreed to take back 60 migrants from Europe a day, up from four.
But in a speech following talks with Prime Minister Beji Caid Essebsi, the European Commission chief demanded more action.
"Europe is ready to help you with additional means, but we also need the Tunisian authorities to do more," Mr Barroso said, referring to plans to make available up to 140m euros on top of the existing budget of 257m euros in 2011-2013.
"Migration should be regarded as a common challenge, a shared responsibility. We expect from Tunisia strong and clear action in accepting the readmission of its nationals who are in Europe illegally, and in the fight against illegal migration."
"Tunisia's commitment is crucial to the future of our co-operation."
Mr Barroso said emigration was "not the solution to the economic challenges" which Tunisia was facing.
"The long-term solution is economic and social development based on the talents and the energy of the Tunisian people," he added.
Related Internet Links
The BBC is not responsible for the content of external sites.