Geert Wilders 'hate' trial resumes in Amsterdam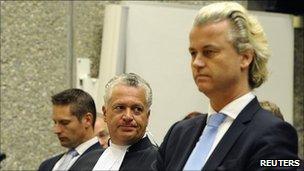 The Amsterdam trial of the leading Dutch politician Geert Wilders on charges of inciting hatred against Muslims has resumed.
Last month a judge ruled that the trial would go ahead, overturning a decision last October to halt it.
Testimony is being heard from two Arab world experts - Hans Jansen and Bertus Hendriks - and a judge, Tom Schalken.
Mr Wilders's Freedom Party (PVV) is not in the coalition government, but the party's support keeps it in power.
He has described Islam as "fascist", comparing the Koran to Hitler's Mein Kampf.
He insists his remarks on Islam were part of a legitimate political debate.
Last year Mr Wilders's lawyer, Bram Moszkowicz, argued that Judge Schalken had acted in a way prejudicial to Mr Wilders.
His argument was upheld by a review committee and new judges were appointed.
Judge Schalken had allegedly tried to discuss the case with Hans Jansen at a dinner party last May, before the trial had begun.
Related Internet Links
The BBC is not responsible for the content of external sites.