Belarus bomb: 'Two confessions' by detained suspects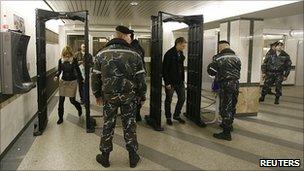 Two suspects in Belarus have confessed to carrying out a bomb attack which killed 12 people in Minsk, says President Alexander Lukashenko.
"We already know who committed this terrorist act and how," he said. "The only thing is we don't yet know why, but that will also be known soon."
The arrests on Tuesday were "without noise, shots or hassle", he said.
The bomb, packed with nails and ball bearings, rocked Oktyabrskaya station at rush hour on Monday evening.
"At five o'clock this morning they made their confessions," President Lukashenko said.
Deputy Prosecutor General Andrey Shved said the two suspects were Belarusian men.
He said CCTV footage showed one of them on the platform at Oktyabrskaya metro station, placing a bag near a bench, then feeling for something in his jacket pocket. Then the explosion happened, he said.
Authorities have said the bomb was radio-controlled. About 200 people were injured in the blast.
Belarus is holding a day of mourning now, as the first victims are buried. All 12 have been identified.
Russian FSB secret service agents are helping in the Belarus investigation, and Israeli anti-terror experts are also expected in Minsk on Wednesday.
Mr Lukashenko congratulated the police on a "brilliant" operation and said they must now question opposition politicians in connection with the attack. He called for a thorough "cleansing" of society.
He was re-elected by a landslide majority last December, but the opposition and international observers said there were serious irregularities.
He has maintained an iron grip on Belarus since coming to power in 1994.
Police broke up an opposition rally on election night, arresting about 600 people - activists and presidential campaigners. Some have received jail sentences, others are still in custody awaiting trial.
In his televised remarks on Wednesday, Mr Lukashenko said "we must look into statements made by politicians... Maybe these actors from the 'fifth column' will show their cards and point at the one who ordered (the attack)".
He said the suspects had admitted links to two previous bombings - one in Minsk in 2008 and one in the western city of Vitebsk in 2005. About 50 people were injured in those attacks.
"It's monstrous, yet true, that the scumbags who committed this crime were working in normal workers' collectives - one a lathe operator, another an electrician. They interacted with many colleagues, they had close friends.
"Surely those around them, the enterprise managers, must have had at least some tiny suspicions about them? I can't believe they had no suspicions," he said.