Silvio Berlusconi 'won't seek new term in 2013'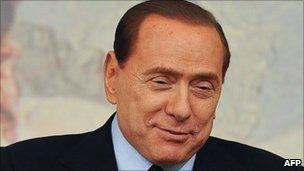 Italian Prime Minister Silvio Berlusconi has hinted that he will not run for office again when his current term expires in 2013.
He told reporters he intended to complete his plan to amend Italy's judicial system, and to change the country's constitution before leaving.
Mr Berlusconi has survived numerous scandals and criminal trials.
On Wednesday the lower house of parliament approved a bill that would cut the length of some trials.
The measure passed by 314 to 296, amid boos and shouts from opposition politicians. They said the bill was a "disgrace" and tailor-made for Mr Berlusconi.
It needs final approval from the Italian Senate, where Mr Berlusconi has a solid majority.
It would cut the length of trials for people with no previous convictions, and thereby effectively end a trial in which Mr Berlusconi is accused of bribing British lawyer David Mills to lie in court.
Mr Mills was convicted in the case 2009, but the ruling was overturned when the country's highest criminal court said the statute of limitations had expired.
Mr Berlusconi denies wrongdoing and says he is the victim of a long-running campaign by left-wing judges - an accusation he repeated during a dinner with foreign journalists in Rome on Wednesday.
The BBC's David Willey, who was at the dinner, said the prime minister did not intend to run for office at the end of his mandate. In December, he had announced that he would probably step aside in 2013.
Mr Berlusconi, 74, first became prime minister in 1994. He has a fortune estimated at $9bn (£5.6bn) and his business empire includes Italy's three main private TV stations.
During Wednesday's briefing, Mr Berlusconi also quashed rumours that he intends to stand for president in 2013. He offered his cabinet secretary Gianni Letta as a possible candidate.
He also suggested Angelo Alfano, Italy's 40-year-old justice minister, might be a possible future leader of his Freedom Party - though he did not rule out some future political role for himself as a father figure who would advise future centre-right coalitions.
In the latest high-profile trial, Mr Berlusconi is accused of paying for sex with an under-age prostitute - accusations he denies.