New Vatican book dogged by translation errors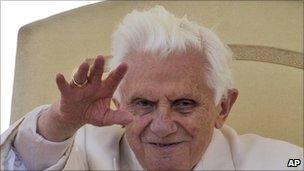 The Vatican has been forced to amend its new book, YouCat, after a number of translation errors, including an implied approval of contraception.
The book, a youth-focused compilation of Church teachings, was launched in several languages in the Vatican.
The Italian edition has been pulled, with launch copies including an insert of corrections.
The main error concerned whether married couples could plan the size of their families.
In the erroneous Italian edition of YouCat, which is set out as a series of questions and answers, a question regarding family planning is mistranslated.
The question "may a Christian married couple regulate the number of children they have?" is mistranslated from the German original as "may a Christian married couple use methods of birth control?"
The answer is given as "yes".
The Vatican opposes artificial contraception but condones regulation of fertility through "natural" means, suggesting married couples can chart a woman's menstrual cycle to help determine relative chances of conception.
French editions of the book have been delayed and errors regarding questions about euthanasia have also been spotted in the Italian version, Associated Press news agency reports.
"The German language is very difficult, as we have discovered on several occasions," Vatican spokesman Federico Lombardi said.