Hunting for jobs in Portugal's recession-hit resorts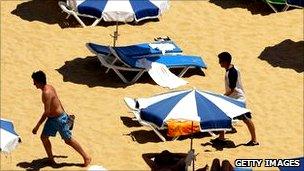 Antonio speaks four languages fluently and used to work as a baker and pizza chef in the US.
He is now in an early morning queue at the resort of Albufeira on the Algarve coast, trying to register for Portuguese state help.
He is fast losing hope of working again.
"As I told the social security people, I'm looking for any sort of work, as long as it's legal," he says.
"The situation is really bad here. I see so many unemployed people."
He estimates that about 50% of the people he sees do not have jobs.
"And it's not real work - anything like cleaning a house for a day. But that's it - only short term".
Asked what he thinks when he sees well-off tourists enjoying the beaches and restaurants only a few blocks away, Antonio laughs and says he thinks they are lucky; proof that things must be better elsewhere in Europe.
The Portuguese are used to being worse off than their fellow EU citizens.
But most thought they had left behind the levels of poverty that are making an unwelcome return.
The country has officially been declared bankrupt and an international bail-out of its economy has been announced.
The Albufeira branch of the charity Santa Casa da Misericordia is almost entirely dependent on private donations to carry out its work, looking after the least fortunate members of local society.
It runs residential care for people with learning difficulties, abandoned children, people with physical disabilities and the elderly.
Its soup kitchen and daily food deliveries have never been more in demand.
And increasingly it is struggling to raise funds from donors who have been affected by the recession.
A baking school and cafe run by staff with special needs already face closure.
The most basic services will soon become victims of the financial crisis, organisers say.
Paula Faria runs the charity's accounts. "Whatever our income, it's now not enough for half the debts," she says.
The priority now is to pay salaries and buy food. There isn't enough to meet overheads, to make repairs, or replace a car, she adds.
She owes the butcher 60,000 euros ($86,500; £53,000) and cannot see how she can get away with credit for much longer.
Even those who have regular employment in the region can fall into the poverty trap.
Daisy Sampson, a journalist for the Algarve Resident, who lives in Carvoeiro, has been observing the changes since the recession hit.
"When you come to a restaurant or a bar as a tourist you will see that the people serving you are smart. They speak several languages and they will be smiling and happy because they are earning some money," she says.
But they don't live in the places that tourists visit. They live inland with their extended families, where it's cheaper she adds.
Often they have to support mothers, fathers and children as the primary earner. And she feels life has become more difficult for these primary workers.
Tax rises mean they have to work harder to feed their family, she says.
"For someone on five euros an hour, a loaf of bread at nearly two euros is a lot. Wages have never been high here and people rely on the visitors completely."
Foreigners taking in the sun on the seafront at Albufeira are largely oblivious to their hosts' economic problems. Many after all have come here to try to forget their own.
"It definitely doesn't feel like there's a crisis," say one Italian couple.
A Welsh family mentions that their tour guide had said something about problems when they boarded the bus at the airport.
"But we can't see any changes," they say.
"I'm sure they're having a recession, but aren't we all?"