Swiss launch new search for twins missing since January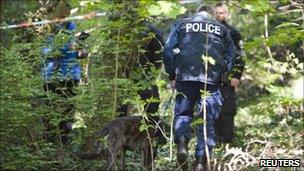 Police in Switzerland say they have launched a fresh search for twin girls missing since January, after information from a new witness.
More than 140 police officers, and several sniffer dogs, are focusing on an area between Morges and Saint Prex, close to the western city of Lausanne.
Livia and Alessia Schepp, both six, went missing after going on a trip with their father, who confessed to killing them before committing suicide.
No trace has been found of them since.
Matthius Schepp, 43, picked up his daughters from their mother's house in St Suphice, Switzerland, on 28 January, before travelling to France and then Italy.
The twins were then reported missing by their mother, Irina Lucidi, after her estranged husband failed to return them home on 30 January.
Swiss, French and Italian police have all been involved in the search.
"We have begun a large-scale search between Morges and St Prex," close to the western city of Lausanne, local police spokesman Jean-Christophe Sauterel told AFP news agency.
He said a witness had come forward on 6 April claiming to have seen a man on the day the twins were reported missing.
"We have a statement from someone who came to the local police headquarters and who told us about a man who was seen carrying a suitcase in the Boiron region (near Morges) on Sunday, 30 January, around 1600," Mr Sauterel said.
"That is all we have from this witness, but by linking the new information to other elements of the investigation, we have deemed it relevant and decided to conduct this search with dogs who are trained to find bodies," he added.
The search had included Corsica after the twins were apparently spotted with their father on a ferry to the island from mainland France on 31 January.
Mr Sauterel said the search in Corsica would be continued, saying it was "another track that is being investigated".
Schepp was discovered dead after jumping in front of a train in Cerignola, in the region of Puglia in southern Italy, on 3 February.
Before his suicide, Schepp posted a letter saying he had killed his daughters and that they were "resting in peace".
However Ms Lucidi has remained hopeful that her girls would be found alive.
Swiss police have already revealed that Schepp had trawled websites on ferry schedules, suicide, guns and poison before taking the girls.