UN court to give verdicts in Croatian war crimes case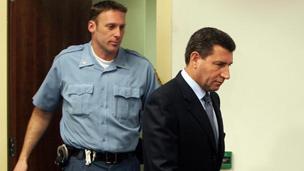 A UN tribunal is due to deliver its verdicts on three Croat generals charged with war crimes against Serbs at the end of the Croatian war in 1995.
Ante Gotovina, Ivan Cermak and Mladen Markac are charged with nine counts including murder, persecution and destruction of property.
The men, who deny the charges, have been on trial in The Hague since 2008.
The case is being followed closely in Croatia, where many view the accused as national heroes.
On Thursday, large screens were erected across Croatia to broadcast the verdicts live, and many people attended an evening mass in Zagreb to pray for the generals, AP reports.
Croatian Prime Minister Jadranka Kosor has urged calm, and said she hoped the court "will recognise the justice" of Croatia's war for independence.
The three men stand accused of crimes allegedly committed during one of the largest acts of ethnic cleansing from the Yugoslav wars, when 200,000 Serbs were driven from Croatia in 1995 and at least 150 killed.
It occurred during Operation Storm, when the Croatian army recaptured parts of the country under Serb control since the start of the Croatian war in 1991.
Those defending Gen Gotovina say he did all he could to prevent his troops carrying out crimes during the operation.
However prosecutors, who are seeking a 27-year jail sentence for Gen Gotovina, argue he never had any intention for his orders not to commit crimes to be followed.
Prosecutors have asked the court for a jail term of 23 years for Gen Markac, a former commander of the special police of Croatia's interior ministry, and 17 years for Gen Cermak, assistant defence minister from 1991 to 1993.
Related Internet Links
The BBC is not responsible for the content of external sites.