Irish minister casts doubt on bankers' bonuses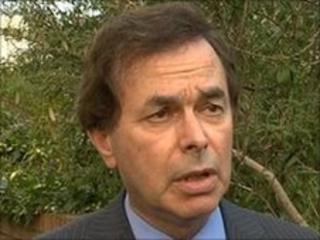 The Irish justice minister has said senior bank officials in the republic could be in breach of their contracts because the organisations they work for have effectively been put into liquidation.
Alan Shatter said as a result those staff may not be entitled involved to lucrative packages on retirement.
On Tuesday it emerged that a former managing director of Allied Irish Banks received a 3m euros (£2.6m) golden handshake.
Mr Shatter said it "defied belief".
The minister, speaking at a conference in Limerick, said he was putting down a marker on an appropriate way to address the issue of huge pay-offs to senior executives in the financial institutions.
Indefensible
Mr Shatter said financial compensation might not be criminal, but was "grossly immoral", particularly when banks were on public life support because of bad management, flawed judgements and indefensible practices.
Meanwhile the Irish premier, Enda Kenny, said there may well be more bankers who will walk away with severance payment packages similar to the one received by Mr Doherty.
Speaking in the Irish parliament, Mr Kenny said he did not know if similar cases existed, but said the Department of Finance was looking into the matter.
He said the department will report back on the contractual arrangements of other bankers.
On Tuesday, a report by Finnish finance expert Peter Nyberg into the Irish banking collapse, found bankers were taking risks on 'an almost unbelievable scale'.
The nine-month inquiry was also critical of Irish society in general and institutions including the civil service and regulatory authorities.