France police 'find bodies' at missing family's home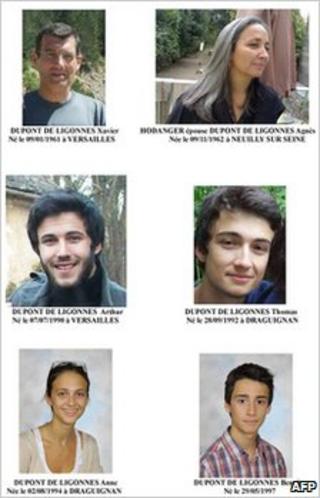 Police in the western French city of Nantes have found three bodies at the house of a family who went missing earlier this month, reports say.
Investigators now suspect kidnap and murder, city prosecutor Xavier Ronsin said, as a search continued at the property.
He said the family of six had not been heard from since early April.
Parents Xavier and Agnes Dupont de Ligonnes had recently announced they were all moving to Australia.
Records show no internet or phone communications with the house in the centre of Nantes since 3 or 4 April, AFP news agency reports.
The family were named in an appeal for information as business manager Mr Dupont, his wife Agnes and their children Tomas, 21, Arthur, 18, Anne, 16, and 13-year-old Benoit.
'Secret agent' father
Mr Ronsin initially told reporters on Thursday a severed leg had been found beneath a terrace at the house and the investigation was "leaning towards kidnapping and murder".
He later announced that a body had also been found, without specifying if it was missing a limb.
Shortly afterwards, a police source told AFP three bodies had been found "beneath the terrace, in the garden".
Before the disappearance, the family left "rambling and contradictory" messages, said Mr Ronsin, saying they were taking their two younger children out of school because they were emigrating to Australia.
"The father explained he was a secret agent and was leaving as part of a witness protection programme," he said, quoting people close to the missing man.
No trace of a struggle or violence has been found at the house, where the wardrobes have been emptied, he said.
A note was taped to the letter box at the house reading: "Return all mail to sender."
'Respectable family'
Local people described the family as quiet and respectable middle-class Catholics with no history of odd or criminal behaviour.
The couple were originally from the wealthy Paris suburb of Versailles but were living in a townhouse on a central boulevard in Nantes.
He sold advertising space while she volunteered for church activities and taught the Catholic catechism to schoolchildren.
"She was a very good woman, very involved," said neighbour Florent Chotard.
The younger children were attending a private high school.
Headmaster Olivier Bouissou said that when he had received word the family were leaving for Australia he had thought they were "moving not disappearing".
"When we got the letter it was with a cheque that covered the entire rest of the school year," he told AFP.