Turkey to build waterway to bypass Bosphorus Straits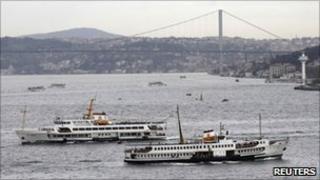 Turkey will build a new waterway to bypass the heavily congested Bosphorus Strait, Prime Minister Recep Tayyip Erdogan has announced.
He said the 150m-wide (492ft) "Canal Istanbul" would link the Black Sea to the Sea of Marmara that opens to the Aegean Sea via the Dardanelles.
Mr Erdogan said the canal would be about 45km-long (31 miles), describing it as "the greatest project of the century".
He did not disclose the exact location.
Environmental 'threat'
"We are rolling up our sleeves for Canal Istanbul, one of the greatest projects of the centuries that will outshine the Panama and Suez canals," Mr Erdogan said.
He said the waterway would have a depth of about 25m and would afford the daily passage of up to 160 vessels.
He said the canal would be completed by 2023, without revealing the cost of the project.
The prime minister stressed that the waterway should be built to protect some 2m people living on the banks of the Bosphorus from millions of tonnes of hazardous materials being transported through the 30km strait every year.
"One of the main objectives is to reduce traffic through the Bosphorus and minimise the (environmental) threat," Mr Erdogan said.
The announcement was made during campaigning ahead of June's parliamentary elections.
The Bosphorus - the world's narrowest strait used for international navigation - divides Europe from Asia.
Its shores are heavily populated as Istanbul - Turkey's largest city - straddles it.