French police arrest 'Tunisian migrants' in Paris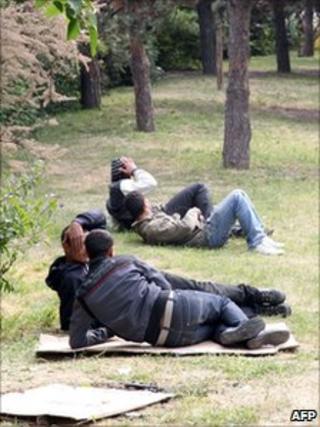 Police in Paris have arrested 60 suspected illegal migrants, most of them Tunisians, as France pushes for tighter border controls.
The suspects, who include some Egyptians, Libyans and Algerians, were arrested for "breaking the residency laws", a police source said.
Unrest in the Arab world has generated a wave of migrants to Europe.
France, part of the EU border-free Schengen zone, is seeking to re-impose internal frontier controls.
No other details were given of the arrests, reported by France's AFP news agency.
France is seen as a likely destination for migrants from Tunisia because many of them speak the French language.
On Tuesday, French President Nicolas Sarkozy and Italian Prime Minister Silvio Berlusconi called for the Schengen treaty to be revised.
Italy has angered France by granting visas to thousands of migrants, allowing them to travel across the Schengen zone.
About 25,000 migrants have arrived by boat in southern Italy so far this year.