Ukraine Gongadze murder: Pukach trial adjourned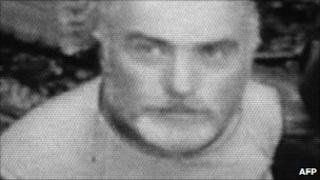 The trial of the main suspect in the 2000 murder of Ukrainian journalist Georgy Gongadze has been adjourned for a month after finally opening.
Journalists in the capital Kiev were barred from the preliminary hearing for Olexiy Pukach, a former senior interior ministry official.
He is said to have confessed to strangling and beheading Gongadze.
The murder has gripped Ukraine for years, with former President Leonid Kuchma facing related charges.
Valentina Telichenko, representing Gongadze's widow Miroslava in court, told reporters the trial would resume on 26 May.
She said that most of the proceedings would probably take place in secret.
Arrested in 2009, Mr Pukach was said by Ukrainian investigators to have confessed to the murder, using an axe to behead the journalist.
Kuchma charged
Three other officials are already serving jail terms for their part in the murder while former Interior Minister Yuri Kravchenko, now dead, is said to have ordered the crime.
Mr Kuchma was charged last month with abuse of power over the murder, which occurred while he was president.
Prosecutors say he gave orders to interior ministry officials that "eventually led to the journalist's killing".
Despite the charges, some analysts doubt Mr Kuchma's case will go to trial and, with 10 years having passed since the murder, some suggest he may benefit from the statute of limitations.
Gongadze's death sparked massive street protests against Mr Kuchma's government.
Gongadze - founder of the Ukrainska Pravda (Ukrainian Truth) website - had sought to expose high-level corruption.